Information on Buying a License
We would like to thank you for considering to buy a Virtualizor License. Virtualizor is packed with loads of features that are not even present in our competitors software. Buying a license is a Piece of Cake and your license is activated immediately ! You can choose the Type of License and find information on the pricing at our Pricing Page.
How to Buy a License ? The following are the simple steps to purchase a license :
Login with your Softaculous account
1) You will need a Softaculous account to purchase the license.
If you do not have a Softaculous account create one by clicking on the Sign Up tab on the client center login page.
If you already have a Softaculous account simply login to the client center.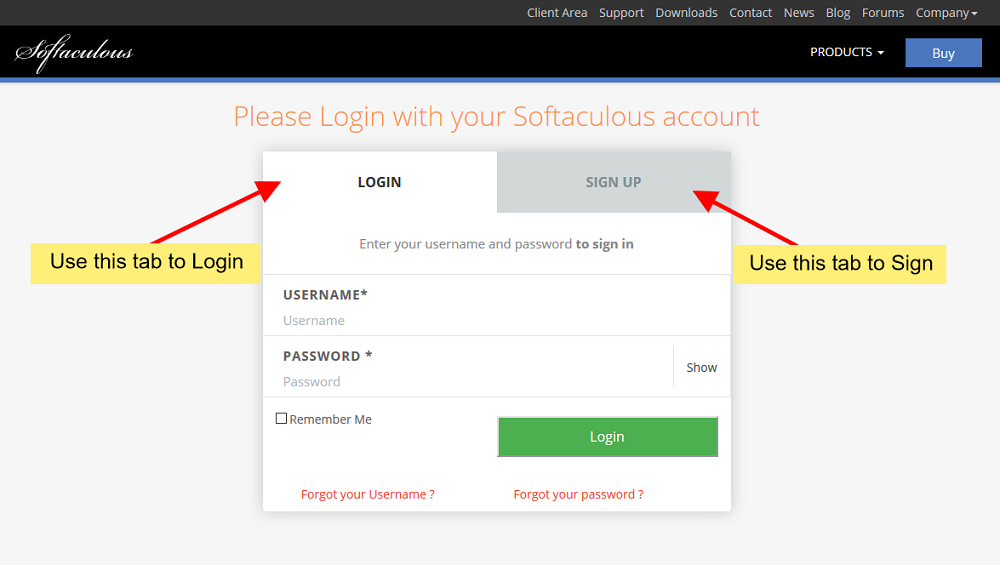 Get the License Key
2) If you have not yet installed Virtualizor on your server you can skip this step.
If you have already installed Virtualizor on your server you will need the license key to complete the purchase.
Login to your Virtualizor Admin Panel and you can find the Virtualizor license key for your server.
Place the order
3) Come back to the client center and login if you do not have an active session.
Now click on the Purchase Virtualizor link from the Menu on the Left.
Period To extend : The period to extend the license by. If you want to create a Subscription then please choose One month only.
Server IP : The IP Address of your License. Its optional for Enterprise and Desktop licenses.
Number of VPS : Choose the number of VPS you would like to purchase the license for. We have unlimited options as well.
Review the Invoice
4) Once you submit the purchase form a Proforma Invoice will be created and you will be redirected to the invoice page.
You will need to pay the invoice and then your license will be activated.
You can pay the invoice via PayPal or use your Credit/Debit card for the payment.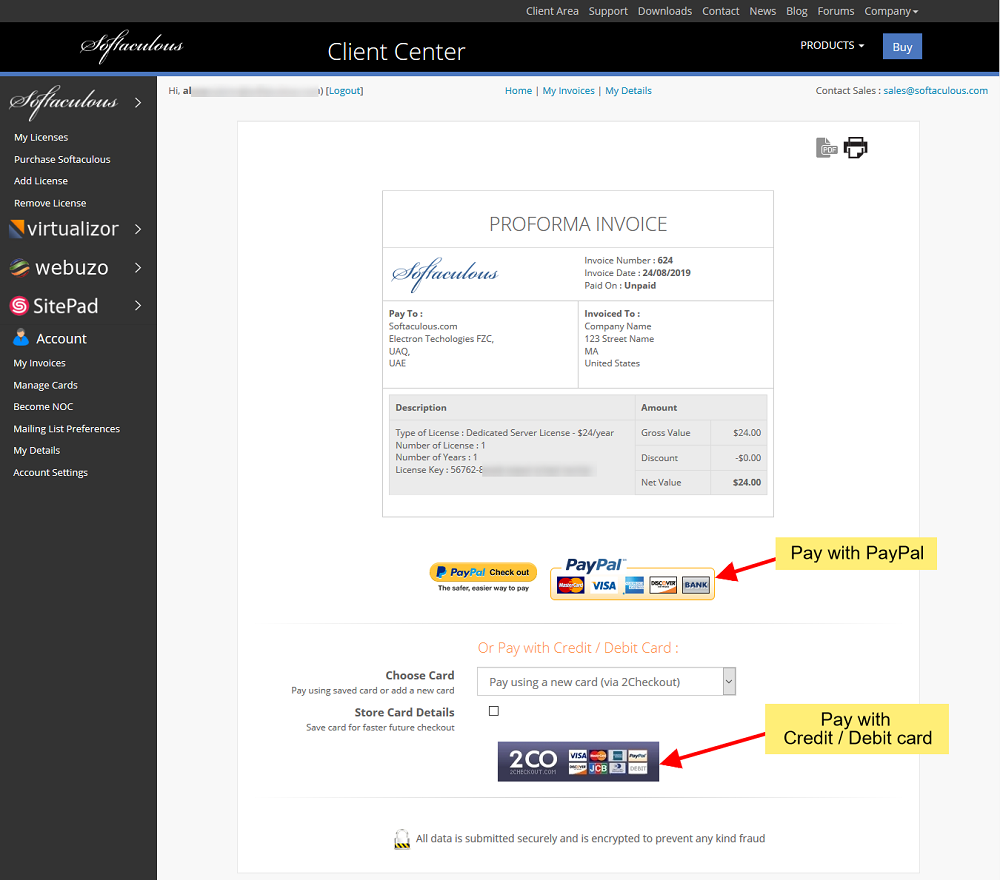 Make the Payment
5) After you choose the payment method you will be redirected to our payment processor where you need to fill in your card details and follow the steps to complete the payment.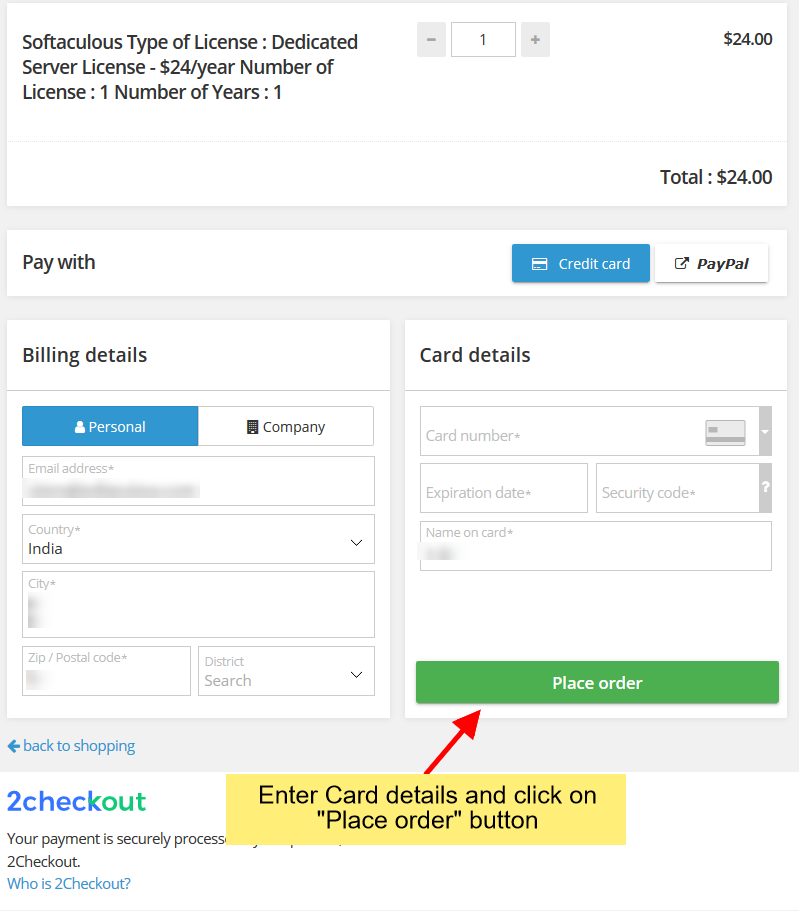 Complete the order
6) Once the payment is completed you will be redirected back to Client Center and your license will be activated.
You can go ahead and install Virtualizor on your server and it will fetch the license you purchased based on the server IP.
Note : If Virtualizor is already installed on your server you can Refresh the license details using the following guide.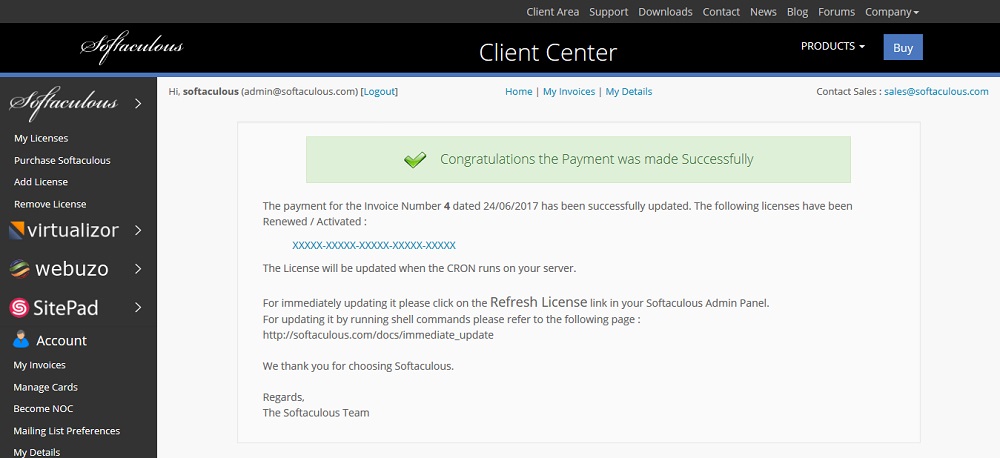 We hope that the process to Buy a Virtualizor License was easy.
If you have face any issues or have doubts you can always contact us at support[at]virtualizor.com